Find Evolution Golf Carts at 808 Golf Carts (Your Local Hawaii Golf Cart Dealer)
If you're on the hunt for a ride that'll take your golfing game to the next level, then have we got some great news for you! Today, we're diving into the extraordinary world of Evolution Golf Carts, available at your local Hawaii Golf Cart Dealer–808 Golf Carts (yes, we ship). These babies aren't your average carts – oh no! Get ready to explore what sets Evolution apart from the rest including: cutting-edge technology, top-notch performance, and more! Let's discover why these carts are stealing the hearts of Hawaiian golf cart aficionados.
Innovation on Wheels
Okay, folks, get ready to be wowed! (Are you ready?) Evolution Golf Carts are the cool kids of the cart world (the environmentally-conscious ones), sporting cutting-edge technology that's ahead of the pack. We're talking state-of-the-art electric-powered engines that whisper with efficiency and eco-friendliness. Zip around the green without the rumble – your fellow golfers will thank you for it!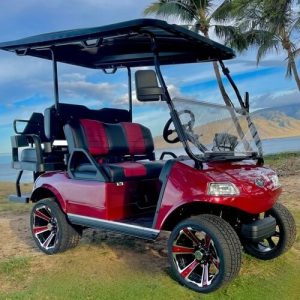 Built to Last
When it comes to durability, Evolution Golf Carts mean serious business. These babies are built tough, ready to take on anything the Hawaiian terrain throws their way. Bumpy paths, sandy beaches – you name it, they can handle it! That's why 808 Golf Carts, your local Hawaii golf cart dealer offers only the best of the best!
-Weathering the Elements
Hawaii's tropical climate can be a rollercoaster of sunshine and showers. But fret not, because Evolution Golf Carts have weather-resistant materials to keep them looking sharp, rain or shine. So, whether you're chasing sunsets or navigating raindrops, Evolution is your trusty companion.
-Sand Traps? No Problem!
We all love a good day at the beach, but sand can be a real nuisance for regular carts. Know who sand ISN'T a problem for? You guessed it: Evolution! These carts have a knack for handling sandy terrains like a breeze. Feel that soft beach sand under your wheels without getting stuck – Evolution takes on sand traps like a champ!

Unleashing the Power
Rev your engines, folks, because Evolution Golf Carts deliver jaw-dropping performance that'll leave you grinning from ear to ear. Thanks to their top-notch motors and responsive controls, you'll experience smooth acceleration and nimble handling. No more feeling like you're stuck in traffic – it's pedal-to-the-metal time!
-Zooming Uphill with Ease
Hawaii's landscape can be as challenging as it is breathtaking. But fear not, because Evolution Golf Carts are masters at conquering uphill battles! These carts take on inclines like it's a walk in the park, ensuring you can enjoy those jaw-dropping views without breaking a sweat.
– Whisper-Quiet Cruising
Say goodbye to noisy engines that disrupt the tranquil vibes of the green! Evolution Golf Carts from 808 Golf Carts believe in peaceful cruising. Their hushed motors let you enjoy the serenity of the course without disturbing fellow golfers. It's like gliding on a cloud – pure bliss!
And there you have it, straight from your Hawaii golf cart dealer – the Evolution Difference! With cutting-edge technology, unwavering durability, and stellar performance, these carts are a true "evolutionary" game-changer. Experience golfing like never before. Evolution Golf Carts are here to elevate your ride and take you on an unforgettable journey across the green. So hop on, buckle up, and let's make some golfing memories in style! Visit 808 Golf Carts for the best selection of Evolution golf carts! We're proud to be your Hawaii golf cart dealer!