Street Legal Golf Carts for Sale in Hawaii: Make it Your Way
Let me guess…you're here because you're ready to take your Evolution Golf Cart from awesome to totally unique? Well, you're in the right spot AND you're in for a treat because today, we're diving into the world of customization for street legal golf carts for sale in Hawaii! Get ready to create a golf cart that reflects your personality, style, and wildest dreams. From a rainbow of color choices to decking out with custom seats, audio systems, and dazzling lighting – the possibilities are endless! Let's talk personalization and see how you can choose the Evolution Golf Cart that truly reflects yourself and your personality. It all starts at the dealership, where you get to pick out features, colors, seating options and more! Let's delve into the personalization options offered right from the get go!
Colors Galore: Paint the Town Red (or Whatever Color you Want)
Picture this … your Evolution Golf Cart in the most eye-catching color imaginable (or something more subtle, if you prefer)! That's what makes our street legal golf carts for sale in Hawaii great! With a range of colors to choose from, you can go bold and vibrant or sleek and understated. Trust us, heads will turn (or not turn) wherever you go!

Bonus Personalization Tip: Decals and Emblems
This is just a little extra tip we like to give when it comes to personalizing your Evolution Golf Cart: Give your Evolution Golf Cart a touch of personal flair with decals and emblems. From your favorite sports team logo to a monogram of your initials, these little details can make a big impact. It's like putting your signature on your ride.
Seat in Style: Fit the Whole Family (Plus a Friend or Two)
Gone are the days when your golf car was limited to a mere four-seater (not that there's anything wrong with that, but sometimes you just need more space. Our street legal golf carts for sale in Hawaii have options available from four seaters, to six seaters and even…eight seaters! That's a whole lotta room: for friends, family, with a little extra for your spoiled furry pal or a picnic basket for a romantic rendezvous. Personalize your golf cart with space, the space you need to enjoy Hawaii with everyone you love!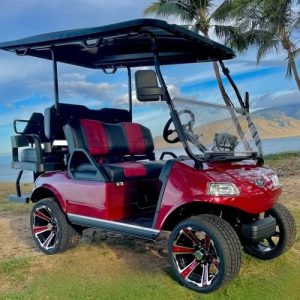 Well, there you have it. If you're craving a golf cart as unique as you are–perfectly suited to your needs and life style, then look no further. Discover street legal golf carts for sale in Hawaii at 808 Golf Carts – where our inventory of options is sure to leave you satisfied with your personalized Evolution Golf Cart! From a rainbow of colors to a range of seating (with enough room for everyone you know, plus a little extra), you can create a golf cart that's as unique as you are. So, hop on board, let your creativity run wild, and get ready to turn heads and steal hearts with your one-of-a-kind ride. You'll leave 808 Golf Carts having taken customization to a whole new level, and we're loving every minute of it!