If you don't consider yourself a golf cart enthusiast, then we would just say you're not a golf cart enthusiast YET. Golf carts are a great answer for anyone looking for environmental and wallet friendly transportation solutions! Today, we're diving into the world of sustainability with Evolution Golf Carts from 808 Golf Carts (that means eco AND financial sustainability). These beauties aren't just stylish and convenient – they're also eco and wallet friendly! From their electric-powered engines to their low environmental impact, we'll show you how these carts are paving the way for sustainable transportation in Hawaii. Plus, we'll spill the beans on golf cart financing in Maui, with options that make embracing eco-friendliness a wallet-friendly choice. Let's jump into the green revolution and drive those dreams of an eco-conscious ride!

Golf Cart Financing on Maui: Wallet-Friendly Options
Alright, let's talk turkey – or rather, let's talk golf cart financing on Maui! Embracing sustainability doesn't have to break the bank, and Evolution Golf Carts from 808 Golf Carts offer wallet-friendly financing options that make eco-friendly choices accessible to all.
-Flexible Payment Plans
808 Golf Carts understand that everyone's financial situation is different. That's why they offer flexible payment plans to suit your budget and needs. Say goodbye to financial stress and hello to the joy of an eco-friendly ride!
-Green Savings, Green Financing
Guess what? Evolution Golf Carts might save you some green in the long run! With lower maintenance costs and reduced fuel expenses, these carts are gentle on your wallet and the environment.
Whisper-Quiet Cruising: The Electric-Powered Wonder
Listen closely – do you hear that? Or rather…not hear it? Evolution Golf Carts are masters of whisper-quiet cruising, all thanks to their electric-powered engines. Say goodbye to noisy engines that disturb the peace on the green – with 808 Golf Cart's selection, it's all about smooth, serene, and eco-friendly rides.
-Charge and Cruise: The Power of Electricity
Gone are the days of guzzling gas – Evolution Golf Carts run on clean, green electricity! Charge up your cart like you would your phone, and get ready to cruise the island with a lighter environmental footprint. It's convenient and sustainability rolled into one! Plus with our options for golf cart financing on Maui, you're adding the bonus perk of wallet-freindliness! 
 Low Emissions, High Impact: Preserve Hawaii's Natural Beauty
Hawaii's natural beauty is unparalleled (that IS what it's famous for, after all), and Evolution Golf Carts from 808 Golf Carts are playing their part in preserving it. With low emissions and reduced carbon footprint, these carts are champions of sustainable transportation, ensuring that Hawaii's paradise remains intact for generations to come.
-Cruising without Compromise
Who says eco-friendly means compromising on fun? Okay, probably nobody has ever said that, but just in CASE: Evolution Golf Carts prove that you can have both! Cruise along the coastline, explore hidden gems, and chase sunsets, all while treading lightly on Mother Nature. It's the perfect harmony of adventure and sustainability. Plus with our street-legal selection, you're basically unlimited in your traversing.
-Golfing Green: Tee Off with Eco-Consciousness
Golf Carts have so many benefits, sometimes it can be easy to forget their origins! For avid golfers, embracing sustainability on the green is a hole-in-one! Evolution Golf Carts from 808 Golf Carts offer an eco-conscious way to enjoy your favorite sport, making you a green golfer with a green heart. Tee off with pride, knowing you're part of the solution for a greener future.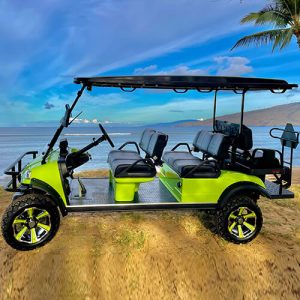 So don't wait! Contact 808 Golf Carts to browse our extensive collection and find out more about our golf cart financing on Maui!