Looking for "6 Passenger Golf Carts for Sale Near Me"?
So, you've heard of those nifty four-wheelers zipping around resorts, gated communities, and, well, golf courses. But… six passengers? If you're considering getting a golf cart, then you're probably wondering what types of features you should go for, but what about HOW many features you should go for? Why settle for four seats when you can get six? If you're looking for "6 passenger golf carts for sale near me" then look no further! 808 Golf Carts is here with the best selection.
Why Opt for a Golf Cart?
If you're already searching for "6 passenger golf carts for sale near me", then you probably don't need too much convincing, but let's go over it anyway. Golf carts are not just about getting from the 9th hole to the 10th anymore. They're about the fun, the flair, the whole "look at me zipping around in my eco-friendly ride." And honestly, isn't life just better with a breeze in your hair?
Why a Six Seater Golf Cart? 
More The Merrier:
Nobody likes to be left behind while the cool kids are cruising. With six seats, you're not just the driver, you're the party planner.
Storage Galore:
Alright, so maybe you're not always ferrying around a party of six. Those extra seats? Perfect for groceries, your golf gear, or maybe your furry best friend. (Don't forget their seatbelt!)
Eco-Friendly Entourage:
Rolling deep but don't want to roll out two separate carts? One six-seater's got you covered. Fewer wheels, less carbon footprint. Save the planet, one cart ride at a time.
Isn't It Just… a Bigger Golf Cart?
Yeah, okay, I hear you. "More seats, so what?" But it's more than that. If you're searching for "6 passenger golf carts for sale near me" then you KNOW how important it is to be prepared. Plus, you're not losing out on any other great qualities…
Smooth Ride:
Ever been in a cramped car? Knees touching the seat in front, bags everywhere. Evolution's six-seater ensures everyone's comfortable. Space to stretch, space to chill.
Stable & Steady:
Two more seats doesn't mean wobbly wheels. Evolution has balanced this baby out so it feels steady, no matter how many pals you pack in.
Quiet as a Whisper:
Zooming around without the zoom noise. These carts are electric, clean, and oh-so-quiet. Perfect for those stealthy midnight snack runs, if you know what I mean.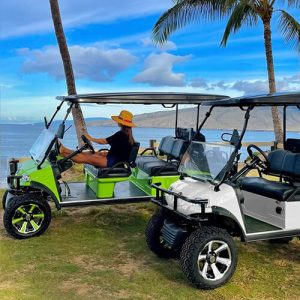 Why Opt for a 6-Seater Golf Cart? 6 Reasons in One
When you think about it, it's not just a cart. It's a statement. It's about saving the planet, looking good doing it, and making sure your grandma, your friend, your dog, (your cooler) and your golf clubs all fit in one trip.
So, if you find yourself wanting to do more than search " 6 passenger golf carts for sale near me", then visit 808 Golf Carts today! We provide Evolution Golf carts to all islands and have an inventory with something for everyone, including a wide range of 6 passenger golf carts, just waiting for you!