So you want to get a golf cart? Well, we certainly can't blame you! Golf carts mean you've got freedom at your fingertips (plus who doesn't love a cool breeze in their hair?) But now that you know you want to experience that fresh-air transport that only golf carts in Hawaii can provide, you may want to know how to finance a golf cart in Hawaii. If that's the case, then fear not, because 808 Golf Carts is here with all the answers you need.
 How to Finance a Golf Cart in Hawaii
Guess what? The answer is very simple: with us! We provide financing for our wide range of Evolution golf carts! But we can't end the blog there! So let's dig a little deeper…
Golf Carts Ain't Just For Golf 
Before we dive into the nitty-gritty of dollar bills and finance, let's get one thing straight. In Hawaii, golf carts aren't just for the links anymore. They're beach cruisers, grocery getters, and just all-around cool rides. Now that we're on the same wave, let's talk moolah.
At 808 Golf Carts we've got an awesome range of golf carts and LSVs ready to roll in Hawaii, and we've got some pretty sweet options for Golf Cart Financing too.
Whether you're in the mood for a slick and stylish ride to turn heads on the streets or a tough and dependable companion for the golf course, we've got the ideal choice waiting for you. And here's the kicker – we are the answer to "how to finance a golf cart in Hawaii" with some seriously competitive financing plans and rates on all our vehicles, so you won't be emptying your piggy bank.
Financing Options for Everyone
No matter where you stand on the credit scale, we've got a financing plan that'll match your needs. Our friendly and super-knowledgeable team is all set to guide you through how to finance a golf cart in Hawaii. We'll walk you through the entire process, from picking out your dream golf cart to locking down financing and hitting the road. We've got your back every step of the way!
Ride Into The Sunset
So if you're wondering how to finance a golf cart in Hawaii, then know that not only is it totally doable… but it's totally worth it too. 
Whether you're watching the sunset from Waikoloa or just cruising the streets of Lahaina, remember: it's not just about the destination. It's about the journey… and how you finance it.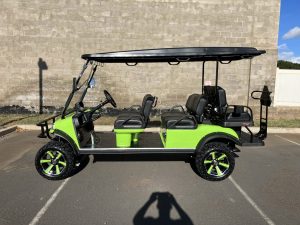 Contact 808 Golf Carts
So what're you waiting for? Get started by contacting 808 Golf Carts today. Our staff is always here to walk you through every step of your golf-cart purchasing process: browse our extensive inventory, get expert tips on which Evolution golf cart fits your needs and lifestyle, talk financing deals, get info on maintenance and upkeep and more! Plus we offer inter-island shipping for all golf carts! It doesn't get much better than that!