Exploring Options for Financing Golf Carts in Hawaii
The allure of owning a golf cart in Hawaii is undeniable. From exploring scenic coastlines to navigating charming streets, these versatile vehicles offer a unique and convenient mode of transportation. However, the cost of purchasing a golf cart can be a significant barrier for many. Luckily, 808 Golf Carts offers various options for financing golf carts in Hawaii, making the dream of owning a golf cart a reality for residents!
Traditional Routes for Financing 
Prospective buyers can work with us at 808 Golf Carts to assess their creditworthiness, explore available loan options, and determine the most suitable terms that align with their budget and financial goals. Our financing options allow individuals to secure ownership of a golf cart while managing their expenses effectively.
As a top golf cart dealership in Hawaii, we are proud to offer financing solutions tailored specifically to our customers. Our arrangements aim to provide added convenience and flexibility, as we are familiar with the intricacies of the golf cart market. Financing Golf Carts in Hawaii with 808 Golf Carts means you get to work with us to choose what works best for you. Exploring financing options through 808 Golf Carts can simplify the purchasing process and streamline ownership.
Considerations and Research 
Before embarking on the financing journey, it is essential to conduct thorough research and consider a few key factors. Evaluating interest rates, repayment terms, fees, and the overall cost of financing is crucial. While looking into Financing Golf Carts in Hawaii, we at 808 Golf Carts can help individuals make informed decisions aligned with their financial goals. Taking the time to assess personal budgets, financial stability, and the long-term implications of various financing choices ensures a smooth and manageable ownership experience.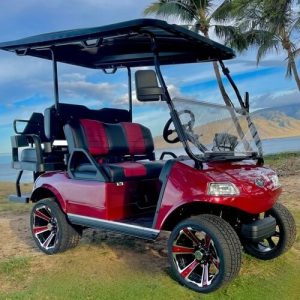 About Golf Cart Financing
Here's what you need to know about our Financing Golf Carts in Hawaii:
-We offer a variety of financing plans to fit your budget. Whether you're looking for a low monthly payment or a shorter-term loan, we've got you covered.
-We have rates among the best in Hawaii, so you can get the golf cart you need at a price you can afford.
-Applying for financing is quick and easy with our online credit application. Just fill it out and we'll take care of the rest.
-We offer flexible terms on all of our financing plans, so you can choose the plan that works best for you.
-At 808 Golf Carts, we believe in transparency. That's why we never charge any hidden fees or penalties.
With a range of financing options available at 808 Golf Carts, owning a golf cart in Hawaii is within reach for residents. Individuals can turn their golf cart dreams into a reality by Financing their Golf Carts in Hawaii with 808 Golf Carts. By reaching out to us and conducting careful research, YOU can navigate Hawaii's picturesque landscapes with the joy and convenience that these remarkable vehicles offer. SO why wait? Reach out to 808 Golf Carts today to find out more about how we can help you plan your golf cart future!